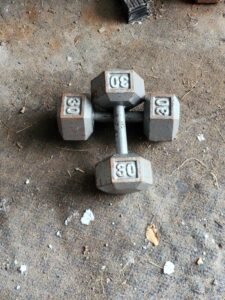 A CLICK FOR HOLMES
I remember it was about fifteen years ago that Holmes bought me a birthday present. It was an odd occasion frankly, as this was the first time that had happened.
By then I'd known him for close to twenty years and not once had he gone out of his way to honour me and actually get me a gift.
Ron Ladd came into my life when he answered an ad for one of my sales crews. At the time, we sold cut flowers door to door all over Southern Ontario.
He was in foster care, and over the next few months and even years, a handful of his foster brothers joined us at his invitation. He was the first.
I could say he was the last too. Within a couple of years of working for me he moved into one of the rooms we rented after we duplexed a bungalow on Hamilton's West Mountain. Mortgage rates were in the teens at that time and so, we did what we had to do.
I remember complaining to Homer, the Children's Aid Society social worker who was covering his rent and being gently rebuked.
He told me he wished every one of his hundred plus caseload had someone like me in their lives. Who me? Yes, you. Through my shame, I accepted my role reluctantly.
Ron was a good tenant, learned quickly, and was a loyal and reliable contractor. He loved to laugh and I had the privilege of mentoring him into adulthood despite my flawed existence.
It was the rap era; he could dance too. We nicknamed him Holmes, as in, "What it is, Holmes?" He liked that.
Eventually he moved away to Calgary. We followed, leaving Hamilton and heading to the coast a year or two later. On the way, we checked in on him and roommate Billy Bopper (nickname), another foster kid Ron had brought into our circle, both like family.
We even took them to Cowboys, me wearing my new Lucchese boots bought special for the trip west.
I can't remember if Billy punched anyone out that particular night or not. It was a long time ago after all, and "The Bopper" had the odd off-night.
Sure enough, in kind some time later Holmes followed us and moved to British Columbia's Lower Mainland.
There, we lived and worked together again. Eventually, I went into the newspaper paid sales business.
He'd by then become a kayak guide working the salt chuck. My friends and I fished the rivers and salt, and Holmes knew the moon phases and the tides. He had developed expertise.
Later on, he joined me as a manager. It meant reluctantly leaving Galiano Island in the Georgia Straight ("his island") to help me run Calgary after I'd expanded out of the Vancouver account.
So, it was he came over with these 30 lbs. dumbbells on what had to be my fiftieth birthday.
I was shocked that he had actually thought of me. Dumbfounded too as they were the perfect all-around size, and a man's gift to a man.
He'd been doing a lot of body weight exercises and with little encouragement could do a "human flag" off any post. He was a compact powerhouse for some of those years.
Right away, I noticed: one of these dumbbells is loose. When you lift it, it clicks.
Of course, our relationship was based on respect and loyalty, the foundation of any male friendship.
But it also included plenty of the competitive tendency to ball bust each other.
He had a good sense of humour our man Holmes, and we both laughed easily.
I picked them up and started doing reps and click-click-click-click-click… I looked at him.
Happy with the gift but unable to shut my big mouth, I said something like, "Sure enough, one of them is loose and clicking, what the fuck Holmes…"
He answered, assuring me I could handle it, laughing at me with kid brother cheekiness.
It struck me later that my answer was unkind. The kid, from poor beginnings and a troubled start, and even though he was in his thirties, had thought of me. If he'd brought me two stones tied together with string on sticks my only answer should have been profound gratitude.
It was a few years after returning to his many friends and actively working as a competent and well-liked kayak guide in the magical waters which surrounded his beloved island. He said good night one evening to his buddy and went to sleep, and never woke up.
I grieve that fucker still. Not in an overwhelming or necessarily burdensome way. Admittedly though, it was at first. Losing people who are loved is always a travail.
I cling to the Hofstadter idea that we exist in each other. Where I exist in Holmes might be in question… but where he is in me is never gone. My little buddy Holmes echoes endlessly down through time in all those he left behind.
And he clicks too. Every time I pick these up, which is pretty much every day, there it is: click-click-click-click-click-click-click-click-click-click.
Ten reps of Holmes, minimum.
I could do super slow reps, which are better for me and I sometimes do, and hear no click, but there's no fun in that.
With every rep and every click, an echo, a click for each as my memory vault swings open to reveal one of a thousand scenes of me and my little brother.
A click, I see him at age 14 at his first week on the job, cherub-faced and full of commitment.
A click, now I'm teaching him to drive.
A click, I hear him dealing with his first jealous girlfriend (a blonde-haired blue-eyed Newfoundlander beauty).
A click, and he's teaching my son, his de facto little brother, how to swim in our back yard above ground.
A click, he's dancing to hip hop in Niagara Falls, N.Y., at a giant club while acting as our designated driver.