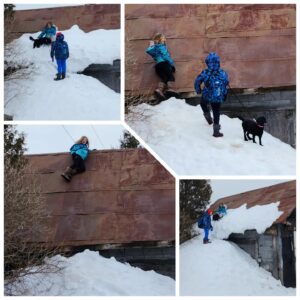 CONQUEST KIDS
The barn, as we call it, is really just an old shed. It may have once housed animals, but that would have been long ago. It most surely served others before me, a tool shelter used in various combustion engine repairs.
As a child, i remember rafts of logs driven by lumberjacks still floated the waterways around here.
The barn, like the house, is built with a patchwork of hundred-year-old timber, with walls of rail road ties hewn from those logs floated down the Ottawa and Gatineau Rivers. Some ended up at the E.B.Eddy plant, where the first house builder and owner worked.
A tin roof has seen better days but still works. Not a chance I'd be up there. The climb would be fine, but the idea of ripping my hands on old nails and metal means I give this sort of thing a pass.
But not my country kids. Snow accumulation on the north side lingers, affording them access. I tend to stay out of their adventures and let them find their way while testing themselves.
Big sister Charlie has been trying to climb this roof for a week. Each morning, waiting for the school bus, she tries.
The arrival of spring and melting snow
means her window of opportunity lessens each day.
This morning, while I was assigned to hold the dog leash, she made it to the top.