Feelings live in the body. Huh? Did I get your attention? It's kind of an important idea.
Need proof? Well, for one thing we know trauma locks the "freeze" part of fight, flight, freeze and feint into the body. Take that as your "proof." We can carry trauma in the body for the whole of our lives, can't we?
I still get a sore back sometimes when I feel powerless in a situation. Hurts like hell, so bad I can sometimes have a hard time standing up. But… no pain, no bliss. Makes me want to ensure powerlessness is not a big part of my life.
Ever tell someone, "you give me a headache" or a version thereof? How about when mom said, "wait until your father gets home" as a little boy or girl? What happens when we anticipate punishment? Do our guts flip? Do our bowels move? Do our hands go cold and clammy?
Let me ask you: what are you doing to take care of that body of yours?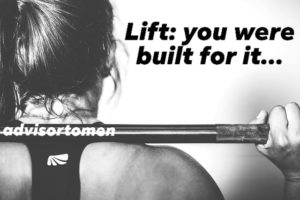 Are you lifting? What? Weights are only for guys? Think again. Humans—both men and women—have lifted heavy objects throughout our history just as a matter of course. Don't let the last hundred years fool you. We are still the people our collective evolution made. If you are not presently lifting, start there, and never stop. Never.
What about yoga? That's just for girls? Give your head a shake. Men have been involved in yoga from the beginning, haven't they? Look at those swami guys in loincloths bending and twisting. I bet they sleep like babies at night. Fallen out of practice? Restart or continue, and never stop.
Late comedian George Burns did the 11-minute 5BX system every day and lived to 100.
Perhaps you have convinced yourself the body is somehow separate from your mind. That it's just there to transport you around. Maybe you think it's sort of the engine room and sewage infrastructure of your being and can somewhat be taken for granted.
After all, the body is beneath you, right? Not a great idea (did I just write that?)
Disconnecting from the body is why we get out of shape, put lousy foods into our mouths, neglect our sleep. We can develop contempt for the body. Where is that from? Maybe from good intentions as we push ourselves physically as children, demanding more and more from our frame and then losing touch with our anatomy as ego takes over and social standing prevails. We go from a narrower internal focus and widen to a more external one as we develop.
Get this: if feelings live in the body, it's also where your unhappiness resides. Think about that.
Whoa. Unhappiness is something we try to avoid. Is that why we avoid our body? Does this mean if I neglect my body, I am refusing to face my unhappiness? Maybe. You decide.
Let's talk about those feelings for a moment. How's that all work anyway?
Feelings are predictive (not reactive) responses based on what is going on in the body (interoception). The vagus nerve complex connects the body and organs to the brain and reports on its condition faster than awareness. Sure, the brain signals the body but when it comes to the vagus—also known as the tenth cranial nerve—more than 80% of its neurons are afferent, meaning they signal towards the brain. That's a lopsided signalling system for good reason
At any given moment, this basic reporting from below is what the brain uses to predictively meet circumstance and put you in a best-guess emotional state—beneath your awareness—all based on your databank of prior emotional states since birth (what else would it have to go on?). It then corrects after-the-fact according to the social reality before you
Ex. You come home and are snappy at a roommate. Later you eat and realize you were responding to hunger because you had not eaten all day. The body determined your state.
Think about this: A baby has very few feelings, restricted to things like crying when hungry, discomfort when it needs changing, or the need for its caretaker's gaze and physical attention. But as its experience grows so does its feelings repertoire. What this means for you and me is this: the only way to create new feelings is to live new experiences.
If you want to shift your state change how you think or what you do. Language and focus are both mental and physical so act as passkeys to unlock the doors of state from either side.
The body is faster. And, more lasting. If someone has an anxiety attack with their gullet flipping and breathing labored and progressively shallower, a painful knot can develop in the sternum area, that center part of the chest where the rib cages meet. Jogging brings relief in minutes.
Feeling a bit tense? Do ten burpees. Can't do burpees? Why not? Don't lie to me.
OK. Do ten deep knee bends, or some jumping jacks, or dance for fuck's sake. Get moving. Even if it's just to smile at yourself in a mirror. If desperate, bridle a pen across your mouth to force it and feel what happens.
Thoughts reflect what is happening in the body. What heresy is this, you say? How is this possible? The hungry example above explains it. It's because consciousness is slow. If something comes into your awareness, it has already happened.
What? How can my precious mind not be in charge? Well, it is… and it isn't.
It takes over once consciousness allows something into your awareness. Not before. That's where free will starts. The rest of the time you are responding to your body's needs, and those constitutional signals continue as you think. It's why the Greek said an unexamined life is not worth living. He was probably a little pissed at realizing how things really worked.
We live emotionally and use our brains to "rationalize" things after. And whose side do you think the brain takes in most of those explanations? You betcha: yours. It's your inherent bias.
And what is the brain relying on to come up with those handy explanations or rationalizations or excuses? Indeed, messages from the body. Messages whose main function is to keep you safe and which are all based on your prior experience. It's motherfucking humbling…
I have more bad news. no one else has ever experienced life as you have, and so cannot feel what you feel. I know, I know, some people are em-paths, and maybe you're not. I call bullshit.
Fact is empathy is always a projection of one person's feelings onto another person. What we have as human beings is enough shared experiences between us to make it seem as if we really feel what someone else feels. But we don't really. Some just try a little harder.
And all those times you just can't seem to relate to someone else? Stop beating yourself up. It's probably not that you're an unfeeling psychopath (who are actually very good at what we regard as empathy and use their ability to read emotional states, especially body language and facial expressions, to manipulate people and circumstances for their own benefit).
It's more like you just don't have those kinds of experiences being shared and so can't even fathom what they might be feeling. That is perfectly normal and so, cut yourself some slack.
Here`s something else that is pretty important about the body. Your microbiome. These include the bacteria, archaea, fungi, protists and viruses that come along for the ride. You've been colonized since coming down the birth canal and out your mother`s vagina, and then you been added to them throughout your lifetime.
Ten times as many non-human cells and human cells inhabit "you," and these suckers need to eat as they perform necessary functions in one of the greatest symbiotic relationship known. They benefit humans and we can't survive without them. We are only beginning to get them.
Knock out a bunch of them with antibiotics and your behaviour can change. A researcher from UBC had an assistant whose son was sick many times as a child. Antibiotics brought on autism-like symptoms. After a few years of frustration, she gave him a fecal-transplant, and repopulated his gut with her organisms. Symptoms went away. Now the kid has grown and works in the same lab as where his mom once did, under the same professor.
If you have a skinny sister and a fat sister, and the fat sister can't seem to keep the weight off despite years of dieting, what would happen if the skinny sister gave the fat sister a fecal transplant? By repopulating her gut with missing microbiota, would she lose weight more easily?
What about mood. Think you crave certain foods in response to some mental process? Well, no, we've established that's not how things work. The body will tell you when it needs glucose, we've established that too. But what if what if what you eat really does affect how you feel? What if how you feel is greatly influenced by the quality of your diet? What if how you take on the challenges of your life are largely determined by the foods you eat? We think it might.
Oh my, what if you really are what you eat? What will you do with this information?
You think you live someplace. You might even have an address on a street. Maybe you also have an apartment number, and maybe its got letters in it too. But that's a construct. It's artificial. It's a place you go to when you need to park your stuff and pick up your mail or rest your head.
For where you really live is above a mere house or apartment or hut on the savannah or cabin in the woods. It's much, much more for it is a place where the forces of all time have gathered.
It is where your ancestors used the methyl groups of your DNA to send you their gathered messages against a backdrop of mankind's collective unconscious, thus giving you a soul. The soul exists because we sense it is there while the spirit is its calling. One is more past, one is more future; one is more static, the other moves.
The spirit is lifted at a sunrise, while gazing at the stars, at art and nature, often at each other. It's also what calls to us, often as a stirring. The soul and the spirit form the inner self we subjugate as children developing ego while learning to conform. The masks we wear bury them further.
Yet, if we listen the spirit calls us from somewhere deep inside. Usually we point to our heart or guts or halfway between, somewhere inside the middle of our torso as its source. It is the blessing of the cosmos in its infinite wisdom, the force behind the sun and the stars, the same one which gave us life and demands we manifest a powerful existence.
It is that part of you which contains all of your potentials and possibilities, all safely residing in the body: the universal address of your existence.
How will you get to know it, take care of it, listen to it and move it?
How about today?
Stay powerful, never give up
cw
Chris Wallace
©October, 2019, all rights reserved
Advisor to Men, Mentor at Large
advisortomen.com
ckwallace.com
To schedule a free call
BOOK TIME HERE