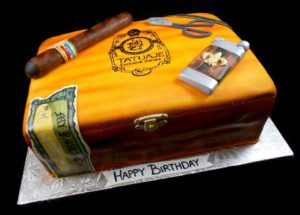 I want to thank everyone for wishing me a happy birthday. It's very kind of you to take time from your day to send good wishes.
So what's a guy do on his 60th? Well, here's how my day went.
First thing in the morning I slapped my woman's ass. Now before you get too excited, know it is part of my morning ritual most days. Yesterday was no different. I want her to know the man she chose is still just as interested in her as the day I first got to slap her ass a dozen years ago. To me, she's not so much a mother and wife; she is my woman first.
I made the bed and opened the window curtain to look at the scenery and said, "This is the day the Lord has made, let us rejoice and be glad in it."
What I really mean by "Lord" is "universe" but I don't sweat the semantics. Lord is just easier to say.
I've done this for 30+ years. It reminds me that I got to wake up breathing; whereas, I know so many others did not. That sets my tone for my entire day.
Once I was done that little ritual, I shuffled off downstairs, attracted by the noise coming from my 4 and 6 year old kids… and the smell of percolated coffee.
Is there a better way to drink coffee? I'm not so sure. Adding to the glorious aroma is that I know by drinking a little coffee every day, I will likely prolong my life. I'm playing the odds and, as a lifelong tea-drinker, thank the missus for the chance to share another morning ritual with her.
On my birthday, I got little presents from my daughter, cards and scribbles. It's funny how she continues to teach me about love, something my gal pals said would happen. Meanwhile, my four year old boy ignored me.
Then, I changed a Facebook group to Powerful Men's Group—Physical, Spirit, People and Business. These are four facets of a man's existence I think are needed to find balance. Neglecting one area causes problems in the others. I may be Advisor to Men but I'm also Counselor at Large. Guys are invited to join by finding us on Facebook groups. https://www.facebook.com/groups/powerfulmen/
During my morning appointments, I got to meet with a butcher who has been in business for decades in the Ottawa area. He took the time to show me his complete operation, the adjoining coffee shop, proudly naming off the varieties of fish he carries, and how strategic he was about the layout of his building and its parking lots.
He told me about how his father sensed trouble back home when Joe was a little boy and moved his family out of the home for safety one night. Returning the next day, the home was trashed, victimized by a rival faction as sectarian violence overtook the country. Dad decided then and there the family was leaving Lebanon. Canada took them in as it does so many.
It's hardly surprising the Lebanese are described as descendants of the Phoenicians, the great Mediterranean trading empire a millennium before Christ.
And their people have adapted to their new home, assimilating seamlessly into Canadian life. Even one of my brothers married a young gal of Lebanese descent. I call her FSIL, for favourite-sister-in-law. Don't tell the others.
Conversations are a big part of my life. When I was a younger man and struggling with my demons, I didn't take the time to get to know and appreciate the people around me. I do now. Canada has 20% of her population born elsewhere. An opportunity to visit the world without ever leaving the country.
After leaving the butcher shop/grocery, I stopped by a Tim Horton's. I stood in line next to big guy in work clothes, maybe early twenties, when a man of about 40 shuffled in and went past us and ordered. I looked a little puzzled at the fellow beside me and said, "I guess he really needed a coffee." He answered with a shrug, "Its Christmas, let him go ahead."
I thought that was a nice way to think and told him so. We had a conversation about giving right there on the spot.
I told him about having a very rough day once and ordering a coffee from a drive-through after finally getting off the highway. When I came to pay, the teller told me the guy in front had already paid. I looked up to see the guy pulling away with a wave out his driver window.  I've never forgot that random act of kindness, telling the young man how he set a good example of tolerance.
Since it was my birthday, I ducked into one of those Anytime Fitness places to exercise. Recovering from a double hernia operation last month, I've become a little flabby around the belly and so, on my sixtieth, I snapped a picture as a way to hold myself accountable.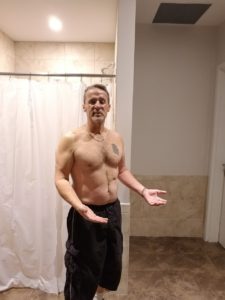 Any workout day is a payday of sorts. How nice is that?
Learner is my number one strength. If you are a learner, you must also teach. So mid-afternoon I did one of my regular overseas advisor calls. It is gratifying to work with people and see them improve over weeks and months. My clients teach me as much as I teach them. We are here to learn from each other.
Then it was off to gather the children and missus to go buy her a car.
Missus is good with money, bless her heart. I'd never entered a Walmart until we met. So we went to a Hyundai dealership to pick up an Elantra. She picked the colour. Says with my red truck and her blue car, we have both sides of the heart covered. It was deep stuff from missus; she's our heart.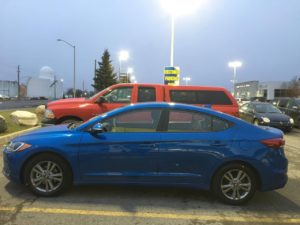 She's thrilled about the heated seats and steering wheel. I think the back-up camera with in-dash display sold her.  The dealership wouldn't give her much for her old car so, on her own, she got online and sold it to a guy who needed the motor. When we delivered it, I made him give her the money.
As I was about to leave the dealership, the GM came by and thanked me, before the team started grilling me about my card, Advisor to Men.
With a little prompting, I gave them a pep talk, leaving them empowered, standing taller and more assured about returning home to their wives and families.  It's one of my favourite things to do.
By the time missus got home with the car, she'd figured out we could save $300 per month on fuel if I used it for business. It's a good match this marriage thing. I may end up driving it more than she will.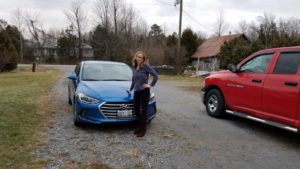 She cooked me a steak and we had a cake. I blew out six candles with the kids. Howie refused the cake as he said it wasn't his birthday. I think his last one really made an impression. Charlotte stood by at the light switch, all giddy until ma got the candles lit.
Of course, every year I get a pair of slippers. I like wearing slippers at home. One reason is I don't like socks with holes in them. Slippers cut down on the wear and tear. Seems to me socks are already on the endangered list through the travails of ordinary laundry without adding to the misery by wearing holes in them unnecessarily.
Missus thinks if socks are going to go missing anyway, you might as well wear the hell out of them while you can. There's a certain strength to that logic I can't quite counter.
I decreed a couple of birthdays ago that everyone gets a present at birthdays. I'm doing my part for socialism, by appealing to the collective good in people. I want my kids to know "we are all in this together." I have lived the "law of the jungle" both inside and outside of prison. Not interested.
Find it early or find it late, we must all find love.
Howie got elf slippers, Charlotte slippers shaped like bunnies. Missus and I got sheepskin looking things. We took turns showing off our new footwear to each other. Both kids got to wear them at school today for pajama day.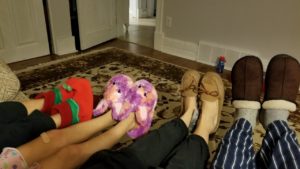 Turning 60 has me thinking about my future. I'm in OK shape and mentally, I'm at the top of my game. However, it's at this stage of life when the clichés start to really sink in. Suddenly I find myself wondering about things I'd never considered before.  Read bullshit stuff like, "is this my destiny?"
It's that Rumi guy, I suppose, talking about a precious red ruby inside me and all that. Then he writes "Forget safety. Live where you fear to live. Destroy your reputation. Be notorious." Man, I've spent 30 years restoring my reputation, not always successfully. I think I get what he means though.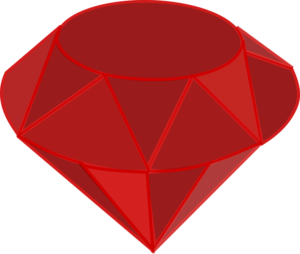 But he goes on to say "when you do things from your soul, you feel a river moving in you, a joy." Indeed, I do. I get that. I have been in my zone many times.
It's how I feel when I am writing sometimes. I confess I've never had writer's block. I often erase whole pages of writing and just write more. It's also how I feel when I have the honour of teaching about something I know to someone in need. It's how I feel around my family.
It was my mother who taught me to read at age five, but my father who taught me to write at age 50. I have practiced for ten years then. It's time to put Scrivener back on this machine and write more.
I've also subscribed to Hyatt's Focus Planner system for 2018. I don't know about you but the most productive years of my life I used a day planner to manage my time. I've tried the digital formats and it's just not clicking. I have been drowning in inefficiencies and I'm throwing in the towel. Analog is me.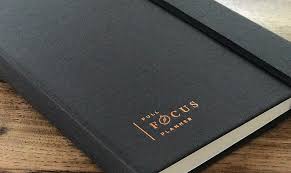 After 14 years in newspaper sales, I should have known better. Print is still king over here. There's a geographical quality to letters on paper not available as easily in digital.
As of a couple of months ago, after an absence of two years or so, I even get the National Post delivered to my home. Dad often gets my Saturday edition when I bring the kids to visit him and feed him lunch. There's a certain comfort to sitting in my office and rummaging through the daily paper, though it's yesterday's news.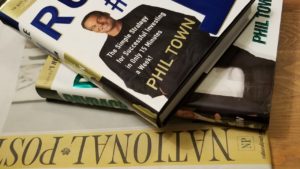 So that's it. Turning 60 isn't so bad. It's been a great experience because I'm honoured to slowly morph into a version of an elder in my community. It's a job no one asks for but each of us must do graciously. Most of all, this milestone for me is a great reminder to put into practice lessons learned over a lifetime.
To that end, I'm back into my stock trading account in the New Year, searching for good companies to invest in long term. I very much admire Phil Town and the way he freely teaches thousands how to invest according the same Benjamin Graham principles followed by Buffett and others. I met Phil a couple of times years ago and I appreciate his dedication to helping others secure their futures.
But this weekend, I'm tempted to take a little of that cash I have lying around in my digital account and buy Bitcoin. Perhaps I'm just following Rumi again, by being ready to "sell your cleverness and buy bewilderment."
After all, Rumi also says "there are a thousand ways to kneel and kiss the earth."
Kiss the earth indeed. Big manly hugs and kisses to you all.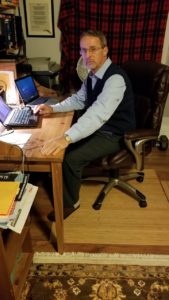 Christopher K Wallace
©2017 ckwallace.com